COHORT PROFILE: THE LIFE-ADULT-STUDY
written by Christoph Engel, Kerstin Wirkner, Samira Zeynalova, Ronny Baber, Hans Binder, Uta Ceglarek, Cornelia Enzenbach, Michael Fuchs, Andreas Hagendorff, Sylvia Henger, Andreas Hinz, Franziska G Rauscher, Matthias Reusche, Steffi G Riedel-Heller, Susanne Röhr, Julia Sacher, Christian Sander, Matthias L Schroeter, Attila Tarnok, Regina Treudler, Arno Villringer, Rolf Wachter, A Veronica Witte, Joachim Thiery, Markus Scholz, Markus Loeffler, LIFE-Adult-Study working group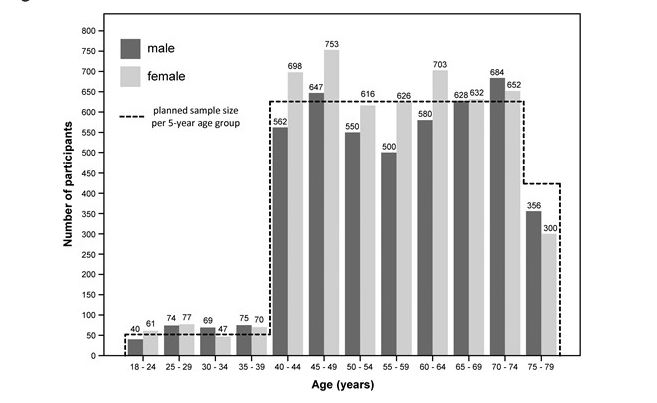 Key Features
The LIFE-Adult-Study is a population-based cohort study investigating the prevalence and incidence of common diseases and subclinical disease phenotypes, the complex interactions between genetic and lifestyle factors regarding the co-occurrence and development of subclinical phenotypes and diseases, and the role of biomarkers to predict disease initiation and progression.
The study comprises an age-stratified and sex-stratified random sample of 10 000 adult individuals (aged 18–79 years) from Leipzig, Germany. The baseline assessment was conducted from August 2011 to November 2014 and the first follow-up was conducted from October 2017 to August 2021. A total of 5512 individuals completed postal follow-up questionnaires and 1799 individuals participated in a physical examination follow-up programme.
The study focuses on cardiovascular and metabolic disorders, cognition and brain function, depression, sleep disorders and electroencephalography-vigilance regulation, eye diseases, voice and allergies. The assessment programme comprises physical and medical examinations, personal interviews, self-administered questionnaires, psychometric tests, and clinical chemistry from blood and urine samples (including biobank asservation).
to read the complete article, click here: https://academic.oup.com/ije/advance-article/doi/10.1093/ije/dyac114/6594394?searchresult=1