POLAR – "POLypharmacy, DRUG AND INTERACTIONS AND RISKS" – HOW CAN DATA FROM INPATIENT CARE CONTRIBUTE TO THE ASSESSMENT?
written by André Scherag, Wahram Andrikyan, Tobias Dreischulte, Pauline Dürr, Martin F. Fromm, Jan Gewehr, Ulrich Jaehde, Miriam Kesselmeier, Renke Maas, Petra A. Thürmann, Frank Meineke, Daniel Neumann, Julia Palm, Thomas Peschel, Editha Räuscher, Susann Schulze, Torsten Thalheim, Thomas Wendt, Markus Loeffler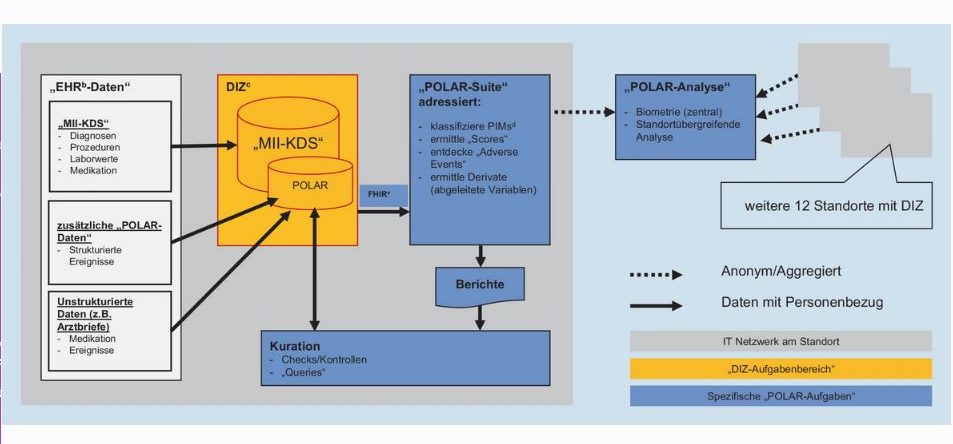 ABSTRACT
Background
As the number of concomitantly used drugs increases, the prevalence of medication risks increases. These include, for example, drug interactions which may reduce or increase the desired and undesired effects of individual drugs.
Objectives
The POLypharmacy, drug interActions and Risks (POLAR) project aims to contribute to the detection of medication risks in patients with polymedication using methods and processes of the Medical Informatics Initiative (MII) on the basis of "real world data" (inpatient treatment data of university hospitals). In the article, the specific clinical problems are presented and illustrated based on an evaluation example.
Results
In POLAR, it was demonstrated for the first time that inpatient treatment data can be made usable across sites for research questions on drug-related problems based on coordinated, interoperable data exchange formats in a privacy-compliant manner.
Conclusions
An interim report from the POLAR project shows the first, preliminary result of an analysis. In addition, more general discussions of technical, legal, communicative opportunities and challenges are presented, with a focus on using inpatient treatment data as "real world data" for research purposes.
to read the full article in german language, please click here: https://link.springer.com/article/10.1007/s11553-022-00976-8#citeas