Repurposing DPP4-Inhibition to Improve Hair Follicle Activation and Regeneration
written by Helm, M. Schmidt, M. Del Duca, E. Liu, Y. Mortensen, L. S. Loui, J. Binder, H. Ferrer, R. A.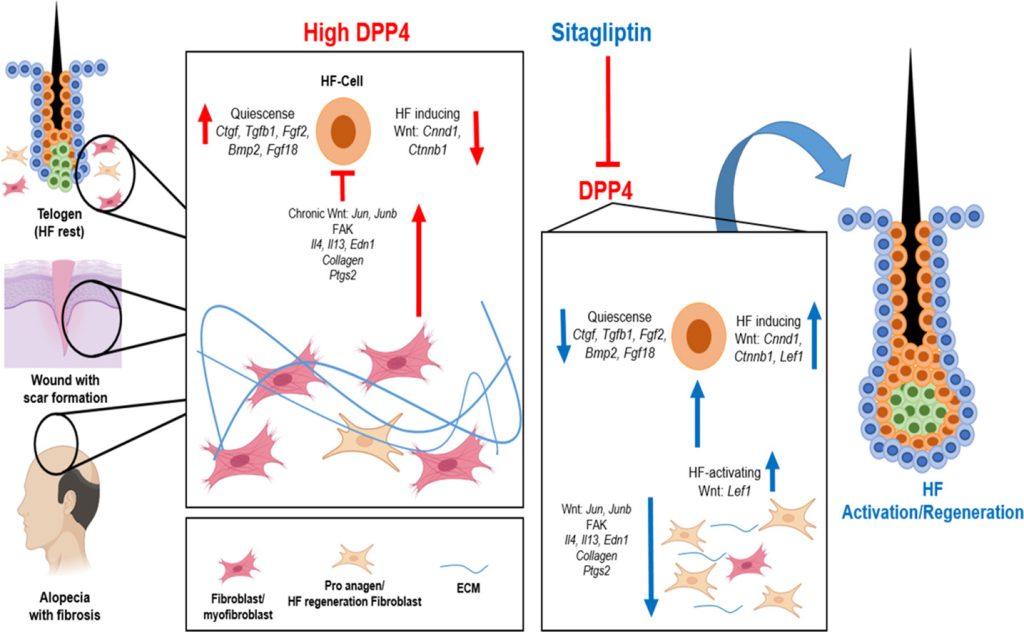 ABSTRACT
Skin-injury and several diseases elicit fibrosis and induce hair follicle (HF)-growth arrest and loss. Resulting alopecia and disfiguration represent a severe burden for patients both physically and psychologically. Reduction of pro-fibrotic factors such as DPP4 might be a strategy to tackle this issue. We demonstrate DPP4-overrepresentation in settings with HF-growth arrest (telogen), HF-loss and non-regenerative wound areas in mice skin and human scalp. Topical DPP4-inhibition (DPP4i) with FDA/EMA-approved Sitagliptin (Sit) on preclinical models of murine HF-activation/regeneration results in accelerated anagen-progress, while treatment of wounds with Sit results in reduced expression of fibrosis markers, increased induction of anagen around wounds, and HF-regeneration in the wound center. These effects are associated with higher expression of Wnt-target Lef1, known to be required for HF-anagen (HF-activation)/regeneration. Sit-treatment decreases pro-fibrotic signaling in the skin, induce a differentiation trajectory of HF-cells, and activate Wnt-targets related to HF-activation/growth but not those supporting fibrosis. Taken together, our study demonstrates a role for DPP4 in HF biology and shows how DPP4i, currently used as oral medication to treat diabetes, could be repurposed into a topical treatment agent to potentially reverse HF-loss in alopecia and after injury.
click here to read the ful article: https://www.sciencedirect.com/science/article/pii/S0022202X23020730?via%3Dihub#sec2 or here: https://pubmed.ncbi.nlm.nih.gov/37236597/